Thousands of jellyfish wash up on Carmarthenshire coast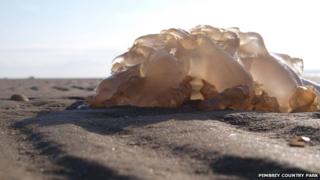 Thousands of barrel jellyfish have washed up on a Carmarthenshire beach.
Carmarthenshire council said the warm weather sparked a boom of the creatures on Cefn Sidan beach. Numbers have grown in recent years because of mild winters allowing plankton to thrive.
About 50 were also spotted at Burry Port harbour on Saturday.
Barrel jellyfish, which can reach 35in (89cm) in diameter, are harmless to humans but beachgoers are advised not to touch them.
Rory Dickinson, the council's countryside and parks manager, said it was likely the tide would take the jellyfish back out to sea.
"They're generally harmless, lead amazing lives and are a vital part of our wildlife," he said.