Swansea indoor market's clock makes timely return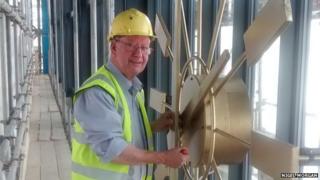 Swansea's indoor market has welcomed back an old friend after 15 months away.
The market's iconic clock was taken down for refurbishment in February, sparking fears it may never return as Swansea council looked to cut costs.
But after receiving an electronic mechanism and a new gold paint job it is back in pride of place at the market.
Although outwardly unchanged, it is now powered by mains electricity.
The clock is automatically set by signals sent from the National Physical Laboratory at Anthorn Radio Station in Cumbria.
To save on maintenance, in the event of a power cut of more than 15 seconds, the clock will stop itself for 12 hours and restart when it is once again showing the correct time.
Donated by local businessman JT Morgan when the market was rebuilt in 1961 after wartime bomb damage, the clock has overlooked shoppers from the market's domed roof for 53 years.
The clock was officially unveiled on Sunday.