Decision due on Swansea's solar panels pilot project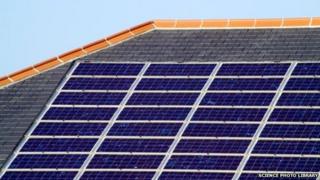 Solar panels could soon generate up to half the energy for public buildings in Swansea.
Councillors will meet next Thursday to decide whether to approve a pilot project on schools and civic buildings.
The Community Renewal Energy and Enterprise Scheme (CREES) would cost around £560,000, but would generate a profit in its first five years.
The project would be introduced in the wards of Townhill, Penderry, Cockett and the surrounding areas.
If successful, it could be rolled out across the entire authority.
Although the council would provide logistical support, the CREES would be a social enterprise owned by the communities in the selected wards.
Councillor Clive Lloyd, Swansea council's cabinet member for transformation and performance, said electricity bills would be reduced by about half.
"It's also about supporting local communities to create and develop clean energy, create jobs and develop local economies," he added.