Parc Howard in Llanelli could be saved by investors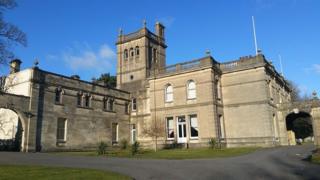 A 19th Century Carmarthenshire park could be saved by private investors.
The future of Parc Howard in Llanelli had been in doubt because Carmarthenshire council has to cut the £106,000 it spends on it annually.
The Buckley family gave the mansion and park to the people of the town.
Chairman of Parc Howard Association, Ken Rees, told Radio Cymru's Taro'r Post that investors want to use the mansion for conferences, with the park remaining in the hands of local people.
Mr Rees said Llanelli town council was asked to consider taking it over but refused, wanting more answers before committing.
Carmarthenshire council said that while it has been approached by third party organisations, a transfer to the town council would "take precedence".
Llanelli MP Nia Griffith, who launched a petition to keep Parc Howard public, said the local authority needs a vision of what to do with it.