Bridgend fire: 1,000 gas cylinders 'no longer a risk'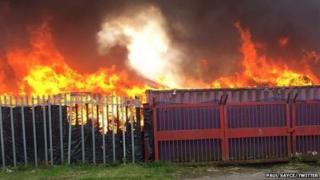 Fire crews say 1,000 gas cylinders at a Bridgend industrial estate no longer pose a danger.
Sixty-five firefighters have been tackling the "very challenging" blaze at a mattress recycling unit on the Brynmenyn site.
An eyewitness said they heard "booms" of gas canisters exploding after the fire broke out at 09:00 BST on Friday.
The estate has been cleared and a 200m (656ft) cordon put in place. One person was treated for minor burns.
South Wales Fire and Rescue Service said the gas cylinders - weighing up to 47kg (104lb) each - are no longer a risk, and crews have managed to prevent the flames spreading to other buildings.
However, the public is still being asked to avoid the area.
The service said it had informed Cardiff Airport of "thick, black smoke" in case it drifted into a flight path.
James Burt, owner of Ogmore Vale Bakery, said the smoke and heat had been "horrific".
"They have shut the roads and you can hear the gas canisters exploding," he added.
Dean Ellis, who runs Dino's Cafe near the site, said many workers from the estate gathered there after the evacuation.
He heard up to six cylinders exploding and said: "There's black, black, black smoke going right through the estate."
Employees at RPM Shopfront Manufacturers LTD had to be evacuated from their building.
Worker Carrie Mitchell, 22, whose father owns the business, said the incident was "nerve wracking".
"Everyone was nervous. We're now more worried because everyone has left their stuff inside the factory and we can't get back in," she said.
"We could hear all the booms of the gas bottles going off."
She added there was still thick smoke but it seemed to be calming down.
Bridgend council said the industrial estate had been temporarily shut down but the household recycling centre would stay closed for the rest of the day.