Rapist pub landlord Alan Aylward jailed for 20 years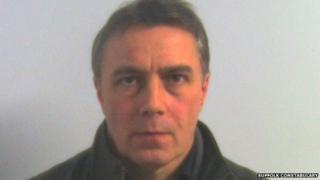 A Pembrokeshire pub landlord has been jailed for 20 years by a court in Suffolk for raping two young girls and sexually assaulting two others.
Alan Aylward, who was also known as Alan Ward, had been the licensee at the Butchers Arms in Eglwyswrw near Crymych for about eight years.
The 59-year-old was convicted of 10 offences at Ipswich Crown Court.
Police welcomed the sentence after the judge described the attacks as "monstrous".
Aylward was arrested after a woman contacted police to make a complaint in 2013.
An investigation by Suffolk Constabulary found three other victims of Aylward.
All the offences took place in the Lowestoft area during the 1980s and 90s, and all the victims were girls aged under 14.
The landlord denied all allegations against him but was convicted by a jury.
Speaking after the sentencing Det Con Darren Winchester said: "The judge said in court that his behaviour had been monstrous and we are pleased that he has now been given a substantial 20-year jail term, which reflects this."
Pembrokeshire councillor John Davies, who lives on the outskirts of Eglwyswrw, told BBC Radio Cymru people in the area had been left "shocked and stunned" by the conviction.