Afan Lido replacement on track for Christmas completion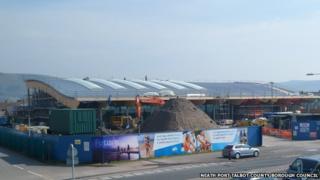 A new £13.4m sports complex in Port Talbot should be ready to welcome the public by "around Christmas time this year", say officials.
The Afan Lido was destroyed in a fire in 2009 and demolished in 2011.
Work to replace the complex is "on programme" says Neath Port Talbot council, with the main concrete works for both pools complete.
Gareth Nutt, director of environment, said: "The council is pleased with the progress that is being made."
He added: "With the striking new roof in position people are now able to see how the wave effect of the roof will look on completion."
The original Afan Lido was opened by the Queen in 1965 , and in its early days the venue hosted major concerts by Pink Floyd and Spencer Davis, and in recent years Coldplay and McFly.