Drilling of borehole at Afan Valley beauty spot approved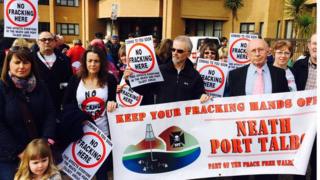 The drilling of a temporary borehole at an Afan Valley beauty spot has been approved by councillors.
About 30 protesters attended a Neath Port Talbot full council meeting to voice their opposition to the proposal.
Councillors were voting on whether to give permission to drill an exploratory borehole for methane and shale gas in a forest above Pontrhydyfen.
Residents say it will have a detrimental effect on an area of natural beauty.
They say it could pollute local rivers and they also fear, if gas is found, it will lead to the controversial process of fracking.
'No unacceptable harm'
Last month the Welsh government imposed a moratorium on fracking in Wales but this application for the forest is not covered by that agreement.
UK Methane Ltd say they are simply drilling an exploratory bore hole for coal bed methane and shale gas, and they will not be using fracking.
Recommending the application for approval, the council's planning officers concluded there would be no unacceptable harm to the local environment to warrant refusal.
They say that Natural Resources Wales raised no objections.
A previous application had been turned down because of fears the drilling would be extremely noisy, but a Noise Management Plan was submitted as part of the new proposal.
Councillors voted to nine to one in favour of the application.
Local people said they were disgusted by the decision.