Children at Carmarthen's Cartref-y-Gelli 'felt ignored'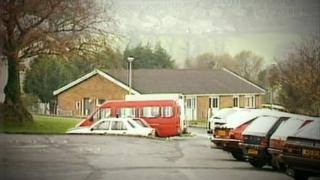 Young people at a west Wales children's home at the centre of a child abuse inquiry felt any concerns they raised would be ignored, a report says.
The report published in 1998, obtained by BBC Wales, makes 14 recommendations for Carmarthen's Cartref-y-Gelli.
It says not all children were confident "of being listened to and some expressed a feeling that it was not worth complaining".
Carmarthenshire council has been asked to comment.
Six people have been arrested as part of a Dyfed-Powys Police's ongoing Operation Almond.
It focuses on claims of physical and sexual abuse at Cartref-y-Gelli between 1986 and 1990 as well as Rhydygors School between 1976 and 1986 .
Police
The report, by the Social Services Inspectorate of Wales, said: "The number of occasions when staff had been required to physically restrain children was high... staff were not happy with the necessity to use physical restraint and, in turn, some children felt that staff had over-reacted to some situations."
Cartref-y-Gelli closed in the 1998-99 financial year, although Carmarthenshire council will not say why.
Dyfed-Powys Police have refused to comment on the details of the report and the council has been asked for a response.
In the report, which had no major criticisms of the home, staff said they were committed to listening to children and dealing with complaints.
"There were occasions when young people had telephoned the police with their concerns. Inspectors were not in a position to make a judgement on the worth of complaints made in the past... some clearly had less substance than others," it said.
Dyfed-Powys police and crime commissioner Christopher Salmon said: "On the face of it, I'm not aware of any specific issues with the police complaints process that are raised by that report.
"Where there are issues they need to be referred to the appropriate authority which in this case would be the council. But we will clearly take a close look at it and I will discuss it with the chief constable"