A long time ago... when Pembroke Dock made the Millennium Falcon
By Carwyn Jones
BBC Wales news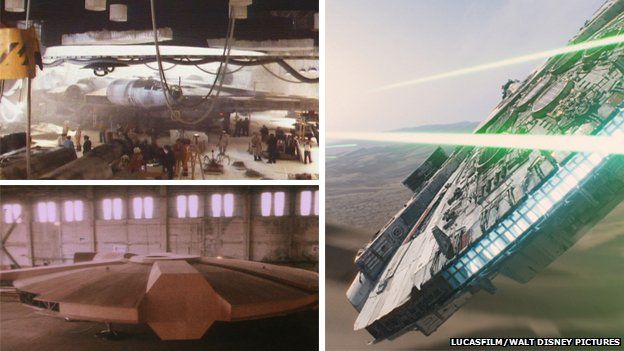 A new instalment in the Star Wars saga hits our cinema screens this year, marking the return of many of the original trilogy's best loved characters.
The Forces Awakens will see many of the original cast return, including Luke Skywalker, Princess Leia and Han Solo.
Also returning will be Solo's spaceship, the Millennium Falcon, taking to the skies for the first time since 1983.
That could spell good news for the tourist industry of Pembroke Dock, which is celebrating its unique link to the iconic spacecraft.
The town's sci-fi credentials stem from a construction project so secret it was even given its own code name: The Magic Roundabout.
In the Spring of 1979, the Western Hangar at Pembroke Dock was bustling with joiners, welders and platers.
The giant steel doors were kept shut from morning until night, shielding the venture from prying eyes.
There were to be no photographs taken, no unauthorised visits, no loose talk. It was all hush, hush.
Inevitably the story broke.
"Security is blown on flying saucer secret," exclaimed the local newspaper. It turned out that workers had, in fact, been building a spaceship.
And not just any spaceship. They were making the Millennium Falcon.
As more details emerged, it became clear that the naval town of Pembroke Dock was part of something very big indeed.
The second Star Wars movie, The Empire Strikes Back, was already in production and the filmmakers needed a life-sized, moving prop of the Falcon for key scenes.
They approached Marcon Fabrications, a heavy engineering firm that serviced the UK's petrochemical and oil industries, including those in Pembrokeshire.
What clinched the deal was a skilled, local workforce and the availability of the town's enormous aircraft hangars, home to the Sunderland flying boats during World War Two.
The giant prop took three months to build. From Wales it was transported to Elstree Studios in Hertfordshire, where The Empire Strikes Back was being filmed.
When the film was released in 1980 it was a box office smash around the world. So, too, was the 1983 follow up Return of the Jedi.
That was the last time we saw the spaceship on the big screen.
But with a new Star Wars film in the making, and the promise of the Falcon's return, Pembroke Dock is now making the most of its sci-fi history.
A permanent exhibition of photographs, artefacts and memorabilia will now be in place to celebrate the town's links with the "fastest hunk of junk in the galaxy".