Swansea Catholic school's bus legal challenge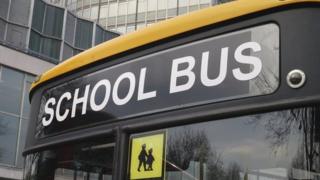 A Catholic school is making a High Court challenge to a decision by Swansea council to cut free school transport for new faith school pupils.
The council is ending free travel to faith schools if a mainstream school is closer to their home.
Bishop Vaughan Catholic Comprehensive, a prospective student and the Diocese of Menevia are bringing the test case.
Swansea council said the decision was not discriminatory and children already at the school would not be affected.
The High Court hearing in Swansea is expected to last two days.
The school, which is the only faith secondary in the area, said some students travelled for an hour and 50 minutes to reach school.
Some parents are unhappy that the same rule will not apply to those choosing Welsh-medium education.
'Deprived areas'
The child in the case, named only as W, already has siblings at the school who will not have to pay for transport, but she will if she joins the school as planned this September.
Bishop Vaughan's bursar, Laura Howden-Evans, said: "At our school, over half of the pupils live in the most deprived areas of Wales, a fifth receive free school meals and a quarter rely on free school transport.
"Families like theirs will simply be unable to pay for transport to school once it is withdrawn.
"The first to be hit will be siblings of children already here, children just like Child W, who want to come to the school from September but need free transport to do so."
The council added it would not be appropriate to comment further.