Leg-break player waits three hours on pitch for ambulance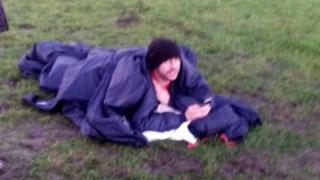 An investigation has been launched after a rugby player with a broken leg was left waiting on the pitch for three hours for an ambulance to arrive.
Luigi Segadelli had waited so long, paramedics told him he could lose his foot, which had turned blue.
The 30-year-old broke his tibia and fibula while playing for Morriston RFC in Swansea on Saturday afternoon and the game was called off.
The Welsh Ambulance Service said emergency demand was "unprecedented".
His teammates had to cover him with blankets to protect him from the cold after 999 operators told them not to move him.
An ambulance did not arrive until almost 18:00 GMT by which time the floodlights had been turned on as it had gone dark.
"I was cold and shaking, Mr Segadelli said.
"When the paramedics saw how long it was taking to get colour back into my foot they said it was a big concern because I had been in the cold so long there was a risk of losing my foot.
"That was when I started panicking. I wouldn't want this to happen to anyone else.
"I want an apology for the delay - they must have the decency to make sure it does not happen to anyone else again."
Mr Segadelli was given morphine at the scene and has had an operation on Monday to put pins in his leg.
A spokesman for the Welsh Ambulance Service said: "Demand was unprecedented and it meant we were unable to respond to some calls in the time we would have liked.
"Unfortunately, the call to help Mr Segadelli was one of those calls.
"The trust has had contact from Mr Segadelli and will now be looking into the matter to ensure we have a full understanding of what happened.
"In the meantime, we would like to wish him a speedy recovery."