Former Pembrokeshire town councillor 'sorry' for lottery lies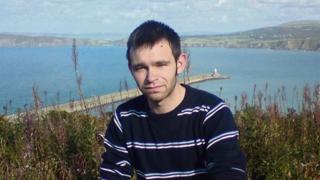 A former councillor has apologised after a community's war commemorations had to be abandoned because he lied about applying for lottery funding.
Chris John falsely claimed he had applied for a grant to fund Fishguard and Goodwick's World War One events.
An ombudsman's inquiry found he may have breached the council's code of conduct but no further action will be taken as he has since resigned.
Mr John said he took full responsibility for the failed project.
'Extremely apologetic'
The Public Services Ombudsman found Mr John told councillors his application for Heritage Lottery Funding for events in the twin towns in Pembrokeshire was on "stage two" of the process.
But checks by the town clerk revealed he had only submitted an expression of interest and at that stage it was too late to apply for funding.
Cllr Richard Grosvenor, who was mayor in the area at the time, said the matter was "embarrassing" and Mr John had let the community down "very badly indeed".
Mr John told BBC Wales that with his farming job and the birth of his first child he had less time to devote to the project.
"All I can say is that the timescale did go on too long and I apologise for that," he said.
"I'm extremely apologetic to have caused any upset or disappointment. It was never my intention to mislead anyone on this."