M4 slip road closure 'hitting businesses in Port Talbot'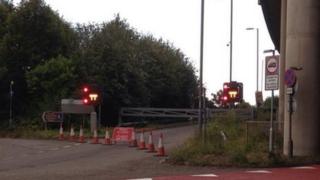 The temporary closure of an M4 slip road is hitting business at a nearby shopping centre, its manager said.
The westbound on-slip of junction 41 closes from 07:00 to 09:00 and 16:00 to 18:00 GMT on weekdays during a six-month trial which started in August.
Aberafan Shopping Centre manager Steve Redmore said monthly footfall has fallen by 16,080 (12%) from its usual 134,000 since then.
The Welsh government said it is monitoring footfall during the trial.
Mr Redmore said: "It's a huge amount and what we're finding is that our trading day has gone from an eight-hour day to six hours because, come 3:30, people tend to head home only because they know they're going to get snarled up in traffic."
He said a permanent part-time closure of the junction would "adversely affect the whole town".
He added: "If you continue to put obstacles in people's way, then they are not going to come."
A Welsh government spokesman said it was too soon to draw any conclusions from the trial, adding: "We have received positive feedback from drivers about the improved traffic flows on the M4."