World War One theme for Saundersfoot New Year's Day swim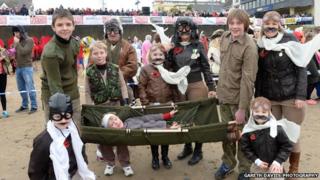 World War One was commemorated by swimmers in fancy dress who took to the cold water off the Pembrokeshire coast for the annual New Year's Day swim.
More than 1,500 people took to the sea at Saundersfoot at lunchtime, cheered on by a crowd of about 8,000.
X-Factor finalist Jay James, who is from the town, started the swim.
There was also a mascot race prior to the start of the main event, with Danny Dog of Heatherton Country Sports Park winning.
Over its 31-year history, the swim has raised more than £500,000 for charity.