Parents angered by 'awful' Frozen party in Kilgetty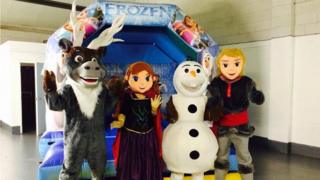 Parents have demanded their money back after children were left in tears at a Frozen-themed party in Pembrokeshire.
More than 200 children queued for more than an hour for the £10-a-head party at the Begelly Arms Hotel in Kilgetty.
Parents said the room was too small, the advertised buffet consisted of crisps and a mini chocolate bar and the present from Santa was a 5p lolly.
The pub said it rented the room in good faith to organisers Pembrokeshire Mascots, who have refused to comment.
A Disney Europe spokesman said: "This event was not in any way authorised by Disney and we're sad to hear that families were disappointed thinking they were going to have a genuine Frozen experience."
Parent Joy Williams said: "We expected a winter wonderland but there were no decorations, no tinsel, nothing."
Pembrokeshire Mascots did respond to complaints on Facebook, saying they moved queues as quickly as possible and have taken people's concerns on board.
The company has now cancelled three other events planned in the run-up to Christmas.