Dylan Thomas's widow wanted his body reburied at Boathouse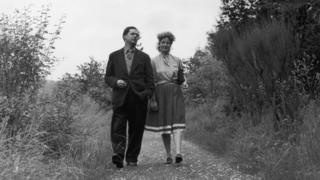 The widow of Dylan Thomas tried to have the poet's body reburied in the garden of their Boathouse home in Laugharne.
A handwritten letter to the Home Office signed by Caitlin Thomas in October 1955 asks for the poet's body to be moved from Laugharne cemetry.
Caitlin wrote she believed the cross at his grave in a "bleak extension" of Laugharne Parish Church graveyard was not fitting for "Wales' foremost poet".
The letter has been released by The National Archives.
Mrs Thomas, who was at that point living in Italy, returned to the cemetery two years after Thomas's death.
She is believed to have written the letter after being dismayed that she "could not even distinguish which was [his]" grave and that it had "been completely ignored by his own townspeople".
Thomas's widow said at the time of his death in New York on 9 November 1953, aged just 39, she was more concerned with getting him home to Wales rather than with his final resting place.
'Facing the water'
But she said: "I should feel much happier if he were facing the water that he loved and wrote about in his poems."
Simon Demissie, contemporary records specialist at The National Archives said: "In a year of celebrations marking the 100th anniversary of the birth of Dylan Thomas, it is fascinating to read that his widow had hoped to see him returned to the Boathouse; even going as far as applying for a licence.
"However, the file does not reveal why Caitlin decided not to pay the £2 fee and go ahead with the plan.
"As a result Dylan Thomas remains in the church yard in Laugharne."