Pembs chief Bryn Parry-Jones's work car was £90k Porsche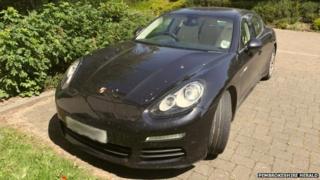 A former council chief at the centre of a row over cash payments made in lieu of pension contributions was given a luxury Porsche lease car as his work vehicle, BBC Wales has learned.
Pembrokeshire council confirmed Bryn Parry-Jones was given the car, after refusing to disclose the information at the BBC's request for eight months.
The hybrid electric Porsche Panamera he used retails for around £90,000.
Mr Parry-Jones got a £277,000 severance deal after quitting his job in October.
The former chief executive left his post on 31 October.
He came under pressure to resign from his post after it was revealed he received cash payments in lieu of pension contributions, which the Wales Audit Office said were unlawful.
Police inquiries into the payments were dropped after no evidence was found of criminal offences.
In July, Pembrokeshire council said it would take no further action to reclaim the money from him or another unnamed senior officer involved in a similar arrangement.
Mr Parry-Jones was the highest paid council chief executive in Wales with a salary of almost £195,000 plus benefits.
Pembrokeshire council said it had been unable to reveal details of the lease car while Mr Parry-Jones was still in his post, as the information was private and exempt from Freedom of Information requests.
"Because this vehicle is no longer in use, we are now in a position to disclose the details," council officials confirmed.