Polar hero Edgar Evans plaque is unveiled in Swansea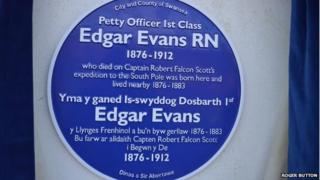 A blue plaque has been unveiled in honour of the Welsh polar explorer Edgar Evans who died on the historic Captain Scott race to the Antarctic.
Evans was part of five man team beaten to the South Pole by Norwegian Roald Amundsen in 1912.
All five succumbed to starvation, exhaustion and extreme cold on the return trek.
The plaque marking his exploits has been placed at Middleton Hall Cottage in Gower, where he was born.
Swansea Councillor Robert Francis-Davies said: "His story is as remarkable as it is inspirational."
Evans's grandson, John Evans, was at the blue plaque unveiling in Swansea on Thursday.
Cllr Robert Francis-Davies said: "It's vitally important we preserve and celebrate Swansea's heritage - not just buildings and locations but also people from the city who achieved great things, too.
"Edgar Evans was part of one of the most documented and talked-about events in exploration history.
He was a humble, local man born and raised on Gower who went to become one of the world's first ever people to set foot on the South Pole."
Other Swansea recipients of a blue plaque include poet Vernon Watkins, Badfinger singer Pete Ham, and gothic novelist Ann of Swansea.