Swansea grandmother Sylvia Pope has 2,000 Christmas baubles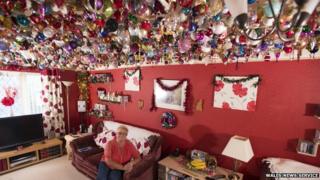 A south Wales grandmother takes longer than most when it comes to hanging up her Christmas decorations.
That is because Sylvia Pope, 72, is the owner of 2,061 festive baubles which she hangs from her living room ceiling.
Mrs Pope, from Swansea, started putting up her collection in September due to the amount of time it takes to finish.
She said: "I absolutely love Christmas and my grandchildren's faces light up when they see all the baubles. It really is magical for them."
Mrs Pope started her collection in 1999 and spends about £100 a year on the decorations, visiting Christmas markets to find new ones.
"Some people think it is over the top and tacky but when they see it for real its completely different. Most people love them and think they look fabulous," she said.