£7m lower Swansea valley flood scheme completed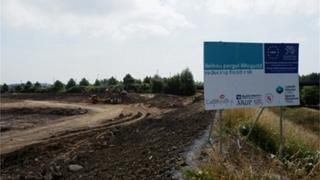 A flood scheme to protect 300 homes and businesses in the lower Swansea valley has been officially completed.
Enough soil to fill 52 Olympic swimming pools was moved from the old Llansamlet Park and Ride to build embankments near the Liberty Stadium in Swansea.
The scheme has also created a natural wetland area which has boosted the ecological status of the River Tawe.
Natural Resources Wales (NRW) estimated if nothing was done, flood damage could amount to £40m over the next 100 years.
A number of bridges were removed or raised to allow more water to pass as well as raising the embankments.
Emyr Roberts, chief executive of NRW said: "The consequences of flooding in the lower Swansea Valley would be serious - not only affecting people's homes, but damaging an important area for business and risking the whole economy of the area.
"As well as significantly reducing the risk of flooding, we've also been able to provide many other benefits through the scheme, including upgrading the local cycle route, installing a new footbridge and improving habitat for wildlife."
Official completion of the scheme is being marked with a ceremony on Thursday, as Natural Resources minister Carl Sargeant visits the project.