Span Arts centre mural to stay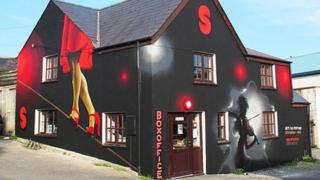 A bright mural showing a woman walking on a tightrope in high heels has been allowed to stay on Span Arts centre in Narberth, Pembrokeshire.
The mural wall caused a stir earlier this year when Pembrokeshire council said it needed special permission as it showed phone numbers.
The council have since granted consent.
Arts centre staff said 200 people signed a petition for it to stay and they wanted to create a "landmark" with a "wow factor".
Span Arts centre was decorated in September as part of its new look.
The mural by professional graffiti artists Peaceful Progress was inspired by Bianco, a contemporary circus show which Span Arts helped produce in 2013.