Public art sculptures planned around Swansea centre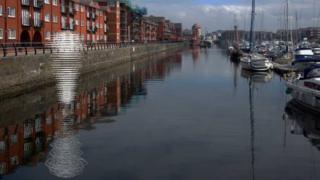 A sculpture emerging from the water could be among a number of works of art that could be appearing around Swansea.
It would be placed in the marina and made up of multiple layers of concentric stainless steel circles.
The idea is to be reminiscent of waves emanating outwards from a disturbance on the water's surface.
Other works include a light and sound display in a tunnel in the town centre aimed at invoking thoughts and memories at the sea.
A climbing wall in the shape of a mountain facing the road on the side of the LC is another idea that has been put before Swansea council.
The £300,000 public art scheme is being funded by the Wales European Funding Office as part of the Waterfront City regeneration programme, the Arts Council for Wales and private developers.