Giant propeller blades stolen from Fishguard Harbour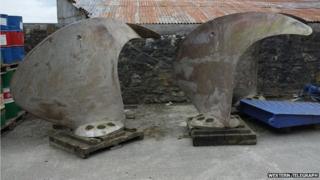 Giant propeller blades worth £240,000 have been stolen from Fishguard Harbour in Pembrokeshire.
Dyfed-Powys Police believe the four blades, weighing around 268 stone (1700 kg) each, were taken between August and September this year.
Stena Europe, who own the copper blades, say they were insured and are worth around £60,000 each.
The 6ft (1.8m) tall propeller blades would have required specialist equipment to move, Stena Europe say.