Breastfeeding problems linked to injection after birth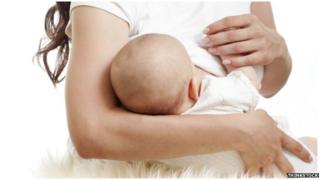 New mothers given an injection after their baby is born are more prone to problems with breastfeeding, a study has indicated.
The drug ergotmetrine is offered to mothers to speed up the delivery of the placenta.
But a Swansea University study of 288 women found those given the jab were more likely to report pain or difficulties when breastfeeding.
The mothers were also less likely to continue breastfeeding past two weeks.
The report concluded the injection of the drug may interfere with natural hormones which support the breastfeeding process.
The Swansea study recorded the experience of mothers with a baby aged 0-6 months.
It showed that although there was no difference in the number who began breastfeeding, those who had the injection were less likely to still be doing it two weeks later.
Breastfeeding rates decrease
One of the authors of the report, Dr Amy Brown, said: "The findings are very interesting as they add to the growing evidence that medications that mothers receive during labour and birth might make breastfeeding more difficult and explain why, as the number of complicated births rises in the UK, breastfeeding rates have dropped.
"We knew previously that women who receive this injection were less likely to breastfeed but were unsure why this might happen.
"This data tells us why: women are more likely to experience pain and difficulty breastfeeding their baby which leads to them moving to formula milk."
The findings have been published in the scientific journal, Breastfeeding Medicine.
Co-author Dr Sue Jordan explained the injection might interfere with the body's natural responses to hormones known as oxytocin and prolactin, which regulate the production of milk.
She called for further research to explore the options for new mothers to "understand the balance between protecting women from excessive blood loss and giving them the strongest chance of breastfeeding their baby".