Murco oil workers given training promise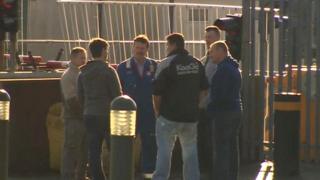 Workers losing their jobs with the closure of a Pembrokeshire oil refinery will be offered training to find jobs in other industries.
A task force has met to respond to the loss of 340 jobs at the Murco plant in Milford Haven after its planned sale collapsed.
Economy Minister Edwina Hart, who chaired the meeting, said the longer term aim was to regenerate the area.
Upgrading the A40 in Pembrokeshire was one idea put forward, she said.
Only 60 jobs will remain at the Murco site as it is converted to a storage and distribution facility after a sale by its owners Murphy Oil to the Swiss-based Klesch Group was called off last week.
'Hard-working and talented'
The task force meeting in Cardiff on Tuesday included representatives of Murco, trades unions, the county council and local colleges.
Mrs Hart said the meeting was aimed at "fleshing out" the assistance the Welsh government could give the area.
She said Pembrokeshire's biggest asset was its people, who were "hard working and talented".
"Our job as a government is to give them the tools to find more work," she said.