Kayakers rescue injured dog on River Sawdde at Llangadog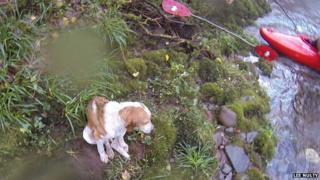 An injured dog rescued from a gorge in Carmarthenshire has been taken to TV "Supervet" Noel Fitzpatrick's unit for checks.
Kayakers rescued the foxhound, nicknamed Kayak, from a river bank at Llangadog on Saturday.
The dog, which cannot move its back legs, has been taken to Fitzpatrick Referrals unit in Surrey after vet checks in Llanelli.
The unit is known for carrying out orthopaedic or "bionic" surgery.
In an update on their Facebook page, staff from Many Tears Animal Rescue Centre said they were hoping for a "miracle".
Kayak was found by Lee Nulty and Geraint Sullivan after apparently being swept down river.
Kayaker Mr Nulty said the dog was found along a challenging stretch of the River Sawdde which is fed from the mountains in the Brecon Beacons.
He believes she had somehow gone into the water upstream.
Mr Nulty kayaked a quarter mile (402m) down river to collect his van and returned close to the spot so he and fellow kayaker Mr Sullivan could carry the dog to safety out of the gorge.