International Dylan Thomas Prize winner to be announced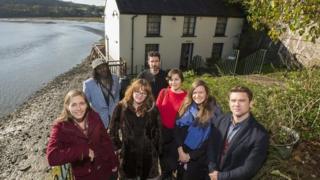 The winner of the International Dylan Thomas Prize, a competition for young writers, will be announced on Thursday.
Seven authors from across the globe have been shortlisted and the £30,000 prize winner will be announced at the National Waterfront Museum in Swansea.
The age limit has been raised from 30 to 39 - Thomas's age when he died.
This year marks the centenary of the Swansea-born poet's birth and a host of events have taken place to mark it.
One of the shortlisted authors, Eleanor Catton, said: "The really exciting thing about the prize is that it celebrates young writers."
The shortlist is:
Eleanor Catton, The Luminaries (Granta)
Joshua Ferris, To Rise Again at a Decent Hour (Viking)
Eimear McBride, A Girl is a Half-Formed Thing (Faber & Faber)
Kseniya Melnik, Snow in May (Fourth Estate)
Kei Miller, The Cartographer Tries to Map a Way to Zion (Carcanet Press)
Owen Sheers, Mametz (National Theatre Wales)
Naomi Wood, Mrs Hemingway (Picador)
The seven writers in the running for the prize come from Wales, England, Ireland, Jamaica, the United States, Russia and New Zealand.