Size of Atlantic salmon has shrunk, new report shows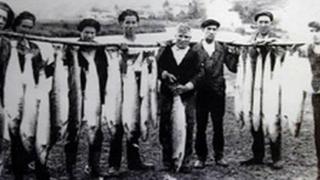 When it comes to the size of our salmon and trout, fins really aren't what they used to be.
Scientists at Swansea University have found that the size of today's fish has shrunk compared to those caught by our ancestors thousands of years ago.
The study also says the shrinkage is not due to modern day fishing methods.
Scientists compared the backbones of 30 Atlantic salmon and brown trout specimens unearthed in Spain, with those of modern day fish.
Swansea professor Carlos Garcia de Leaniz joined Dr Pablo Turrero and Prof Eva Garcia-Vazquez from the University of Oviedo, Asturias, Spain in the study which has been published in the scientific journal Royal Society Open Science.
Much larger
The study concludes the size of salmon and trout caught by Upper Palaeolithic fishermen were much larger than today's fish and their size decreased rapidly from approximately 12,000 years ago.
A Swansea University spokeswoman said: "The most obvious explanation is the overexploitation of large fish by ancient fishermen, though changes in the productivity of aquatic habitats cannot be ruled out."
---
Atlantic salmon
The wild Atlantic salmon is able to survive in both fresh and salt water
They navigate thousands of miles to feeding grounds in the northern oceans before returning to the place of their birth to reproduce
Its presence, or absence, is a vital indicator of the relative health of our rivers and seas
Over the past 30 years numbers of wild Atlantic salmon returning from the sea have fallen by more than half
---
Prof Carlos De Leaniz, who is Chair in Aquatic BioSciences at Swansea University, said: "People think that fishing only started causing an impact on the size of fish recently, with the development of modern gears and sophisticated detection methods.
"But our new study suggests that fishers may have been selecting large fish over a very a long time.
"The problem with large fish is they are usually easier to detect and also easier to catch."
The fossils also indicate that modern humans, who replaced the Neanderthals some 40,000 years ago, were serious about fishing.
---
The record catch
Georgina Ballantine caught the biggest salmon ever to be taken on a rod and line in British waters, at 64lb (29kg)
The record fish was taken from the River Tay, near Caputh in Perthshire, Scotland on 7 October, 1922
She was fishing with her father and as dusk approached she landed the salmon after a battle which lasted two hours
---
Often burnt, the fish fossils show that hunters "would catch the fish in the nearest stream, then bring them to the cave to cook by the fire".
Prof De Leaniz added: "We do not know for sure how our ancestors fished for salmon or trout.
"But evidence suggests they may have used spears and possibly rough traps made of tree branches and stones, much the same as some American Indians still do today."