Plaque honours Swansea's second poet, Vernon Watkins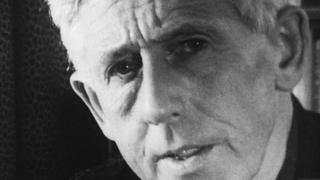 A plaque honouring a poet and close friend of Dylan Thomas is being unveiled in Swansea.
He described Vernon Watkins as "the most profound and greatly accomplished Welshman writing poems in English".
The blue plaque will be placed outside a betting shop which formerly housed a bank where Watkins worked for 38 years.
Watkins was also a member of a bohemian group which would meet at the Kardomah Cafe in the 1930s to discuss art, music, poetry and writing.
BBC Wales TV programme Great Welsh Writers said Watkins dedicated 30 years of his life to working on and promoting the poetry of Thomas with his own work being overlooked.