Welsh Christmas tree set for 10 Downing Street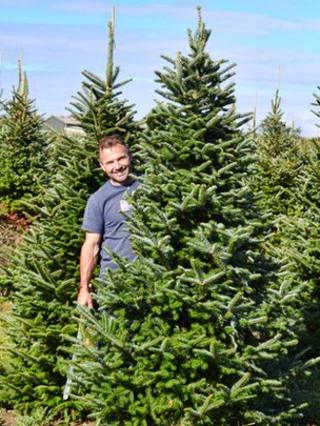 A farmer who turned his hand to growing fir trees has been chosen to supply one of the two Christmas trees for 10 Downing Street this year.
Rob Morgan from Gower, Swansea, will provide the festive Nordman fir for No 10's pillared state dining room.
Mr Morgan won the Best Nordman Fir category and was runner-up in the annual British Christmas Tree Growers Association competition.
He began planting trees in 1996, and said it took 10 years for them to grow.
Mr Morgan told BBC Wales his family had been in ordinary farming for generations, and he had his work cut out to persuade his father to give him a field to plant the first trees.
He now grows 300,000 trees at Poundffald Farm in Three Crosses, which he said was quite small compared to some of those he was competing against who would have millions of trees to choose from.
He said: "The big names supply people like B&Q and they can pick a tree from millions, so normally they win.
"Trees are judged on colour, looks and shape. You can tell how much effort has gone into a tree."
How to spot the perfect Christmas tree
A natural shape
Dense foliage
Well sheared
A rich green colour
Not too wide, too tall or too thin
No stalks sticking out
Source: British Christmas Tree Growers Association
He described the conversion from conventional farming with 500 sheep and 200 cattle to tree growing as "a sharp learning curve".
"All the rabbits ate them and I did terrible things to my Christmas trees," he added.
"I looked at this and thought to produce a good Christmas tree you really have to devote all your time to being in the trees 365 days a year."
The tree which will he will take to Downing Street will be about 12ft (3.6m) tall and will be delivered at the start of December.