Pembrokeshire's South Hook power station gets planning consent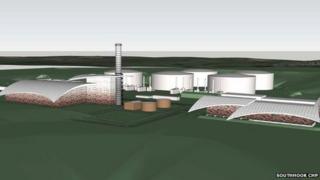 Plans for a gas-fired power station in Pembrokeshire have been given the go-ahead by the UK government.
The South Hook power plant proposal near Milford Haven would be capable of providing enough electricity to power 900,000 homes.
Owners ExxonMobil will now make a final investment decision on the project.
Energy Secretary Ed Davey said the 500MW plant, which could be built by 2018, will create hundreds of jobs during construction.
Once operational, the plant is expected to employ 30 people in full-time jobs.
Wales Office Minister Baroness Randerson added: "This is very good news for Wales and for the UK.
"Investment in new energy infrastructure is essential if we are to keep the lights on and bills and emissions down."