WW2 photos show damage caused by Pembrokeshire bombs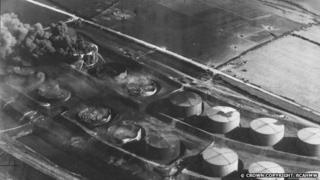 Newly discovered photos show the devastation caused when German bombers hit an oil tank in Pembrokeshire during World War Two.
The three German Junkers bombers, escorted by two ME109 fighters, were flying over Pembroke Dock in 1940.
A 12,000 tonne tank was hit and the blaze spread to 11 others.
The photos, found by the Royal Commissions' Historical Aerial Photographic archive, were taken when the fire had been burning for 12 days.
It took more than 600 men a total of 18 days to put the fire out and five firefighters from Cardiff were killed when a tank split.