Drinking on Tenby streets to be restricted by police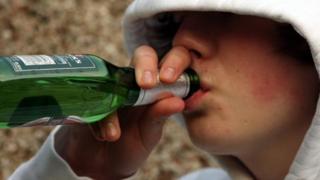 Police have been given powers to stop people drinking on streets in Tenby in a bid to keep the seaside town a "nice place to visit".
The bylaw passed by Tenby Town Council covers the walled town, surrounding streets and the beaches and harbour.
It gives Dyfed-Powys Police the right to request people to stop drinking, although it is not an outright ban.
While drinking is not banned, it is an offence to fail to stop doing so when asked and carries a maximum £500 fine.
Ch Insp Ross Evans of Dyfed-Powys Police believes the move is a sensible compromise between curbing antisocial behaviour and allowing people to enjoy themselves.
'Few troublemakers'
He said: "It's actually just formalising something that we in fact already do.
"We're not out to spoil anyone's fun, it's simply about keeping Tenby a nice place to visit and ensuring that a few troublemakers can't spoil it for everyone else.
"We can demand that people stop drinking at once, and hand over their alcohol, but we'd much prefer to have a polite chat.
"If you're behaving responsibly and not causing any problems while you're having a quiet beer on the beach, then the likelihood is that one of our officers will have a word.
"They'll request that when you've finished your drink you put your cans or bottles in the bin."
The bylaw does not apply to pubs and bars with outdoor seating areas.