Locals asked how Swansea city centre can be improved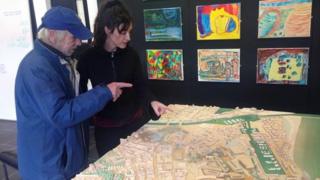 Shoppers, visitors and workers are getting the chance to have their say on how Swansea city centre can be improved.
Locals can visit an empty building at 39 Union Street which has been turned into a space for people to give feedback.
Concerns around public space, greenery and housing will be addressed.
It is part of the council's "You are Here" project and will run on Monday and Wednesday and Friday.
Architectural and town centre models will be available to show possible changes and past ideas.
Councillor Robert Francis-Davies, cabinet Member for enterprise, development and regeneration, said: "All feedback will be...aimed at delivering what we all want - a clean, vibrant, safe city centre that's easy to get to."