Pembrokeshire council chief pay-off deal examined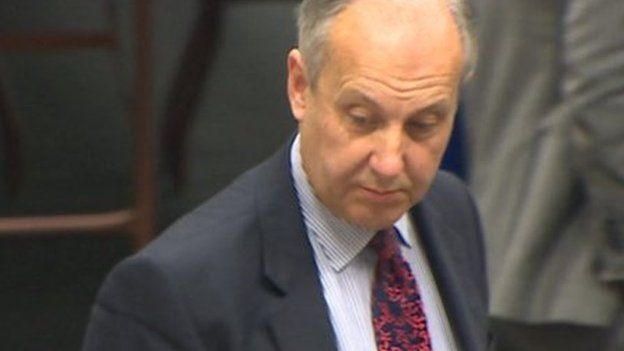 The Wales Audit Office is examining details of a pay-off worth more than £330,000 to Pembrokeshire council's chief executive to quit his job.
Bryn Parry-Jones will leave following a row over cash payments made to him in lieu of pension contributions.
He is the highest paid council chief executive in Wales with a salary of almost £195,000 plus benefits in kind.
But Mr Parry-Jones had been under pressure to resign after nearly 20 years in post following the Wales Audit Office report on his pension arrangements in January.
But Mr Williams said the severance deal meant those proceedings would stop, "denying the possibility of a conclusion".
£48,600 - Payment in lieu of three months' contractual notice
£266,721 - Severance package based on the council's redundancy policy
£16,695 - Compensation for breach of contract over missed opt-out pension contributions since February
The Wales Audit Office said: "The Assistant Auditor General is currently examining the detail of the severance arrangements before deciding what, if any, further audit action to take."
Referring to the details published by Mr Williams, Pembrokeshire council said: "All members should be aware of their responsibilities under the Council's Code of Conduct."
Related Internet Links
The BBC is not responsible for the content of external sites.