Taxi driver's secret passenger reviews investigated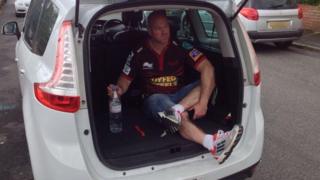 Council chiefs in Carmarthenshire have launched an investigation into a Llanelli taxi driver.
Richard Evans, 44, is being investigated over his "tip advisor" guide, where he made secret online reviews of his own passengers.
Mr Evans took pictures of his passengers and rated them based on the generosity of their tips.
The reviews, which he shared with his 1,800 Twitter followers, also included names and addresses of his passengers.
Investigation called for
On Friday, councillor John Jenkins called for an investigation into Mr Evans' licence to run R and L taxis in Llanelli.
He said: "It sounds like it has quite a disturbing side to it.
"I'm pretty sure the licensing department would take a very dim view of it."
'Bit of fun'
However, Mr Evans has defended his actions and said it was "just meant to be a bit of fun".
He said: "Yes I took pictures of four or five customers with my comments for my friends to see. It was all just a joke.
"I apologise if anyone has been upset and I will take them down. I value all my customers and I want them to be happy."
Carmarthenshire County Council's public health services manager Sue Watts has confirmed that an investigation will now go ahead.
"This is not the kind of behaviour we would expect of one of our licensed taxi drivers," she said.
"We will be carrying out further investigations and acting accordingly."