Nurse awarded MBE gives Prince William parenting advice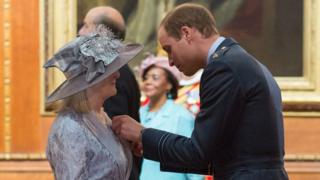 Prince William sought some professional parenting advice from a nurse he was awarding an MBE to.
Presenting Sue Jones with the award at Windsor Castle, the Duke of Cambridge asked about getting his son, Prince George, "to do what he should do".
Mrs Jones said: "I told him to treasure every moment because he won't be a baby very long."
A lead nurse for ABMU Health Board, she was recognised for her services to children and young people.
The Duke of Cambridge asked for advice on his one-year-old as he met Mrs Jones on 2 October.
Speaking of her award, she said: "I went to Windsor Castle to receive it from Prince William.
"I was delighted. He was so lovely."
'Still shell shocked'
She added: "It was a real honour for me. I'm still shell shocked. I was thrilled to have been nominated but to get it was absolutely fantastic.
"Meeting Prince William was the icing on the cake. If I could have chosen which royal to receive it from, I would have chosen him."
Her MBE comes nearly 40 years after Prince Charles presented her with her certificate confirming her as a state registered nurse (SRN) in 1976.
Now a lead nurse for the Health Board's School Health Nursing, Mrs Jones began her career as a student nurse in Neath General Hospital in 1972.
The Port Talbot-born nurse later worked on a children's ward before qualifying as a midwife.
In 2000, she became manager of the Neath Port Talbot School Health Nursing Team, and took up her current AMBU post in 2009.
Mrs Jones was awarded the MBE in the Queen's Birthday Honours List in June, along with Julie Harvey, ABMU's Head of Paediatric Physiotherapy.