Rorke's Drift soldier Pte James Owen's new gravestone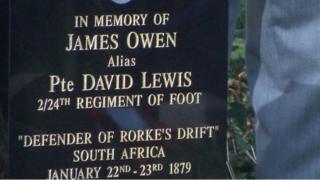 A soldier who fought at the battle of Rorke's Drift during the Anglo-Zulu war has had his gravestone refurbished and rededicated.
Pte James Owen's final resting place at Bethal Cemetery, Sketty, Swansea, was marked for many years with just rotten pieces of wood bearing his name.
But following a campaign it was fitted with a gravestone on Sunday.
The 1879 battle, which involved some 150 British soldiers, was immortalised in the 1964 movie Zulu.
Pte Owen was portrayed by singer Ivor Emmanuel in the Stanley Baker-produced "Welsh western" movie about the battle in South Africa.
He survived the battle and died in Swansea aged 87 in 1938 while living with his son in Kemble Street, Brynmill.
The service was attended by his great-granddaughter Anne Veale who said: "He was very much a family man.
"He wasn't proud of having killed the Zulus, but it was a case of kill or be killed and he did his bit for king and country."