US firm cleared to buy Murco refinery, Milford Haven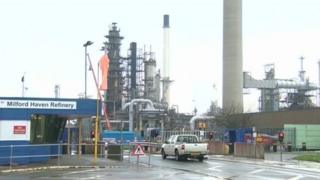 A company in the United States has been cleared to buy the Murco oil refinery in Milford Haven.
Entrepreneur Gary Klesch agreed to buy the 135,000 barrels-a-day Pembrokeshire refinery from Murphy Oil for an undisclosed sum in July.
It refines gasoline, diesel, fuel oil, jet fuel, LPG and propylene as does the Heide Refinery in Germany, which is also owned by the Klesch Group.
But the European Commission said there would be no anti-trust concerns.
The European Union's executive concluded any overlap was limited, and the Milford Haven refinery would face strong competition from other players.
The sale has safeguarded 400 jobs at the site.