Swansea Castle well is restored as part of £300,000 project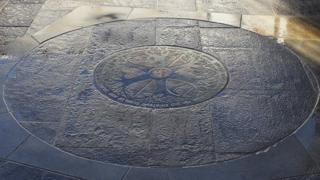 The finishing touches are being put on a £300,000 project to restore Swansea Castle, with the installation of a new cover for its medieval well.
The ornate structure is an interpretation of how the well may have looked in the 12th and 13th centuries.
It has been designed by local artist Rubin Eynon, and replaces a modern masonry wellhead.
Other improvements include new seating and work to improve accessibility to the upper floors and tower building.
Once the works are complete guided tours of the castle are planned, along with other events in the newly landscaped courtyard.
History of Swansea Castle
A wood and earthwork castle was first built on the site in about 1106 by Henry de Beaumont who was later given the Lordship of Gower
It changed hands several times in the next 200 years, as the Welsh and Normans battled for supremacy
Rebuilt in stone around 1300, it was thought to have been damaged by Owain Glyndwr's rebels in the early 15th Century
Most of the stone ramparts were demolished by Oliver Cromwell in 1647, to prevent it from falling into Royalist hands