Sir Terry Matthews to use 'global network' to boost region investment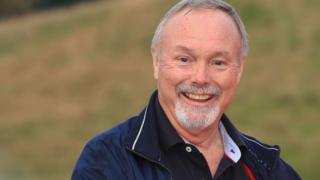 Celtic Manor boss Sir Terry Matthews aims to use his global network of "business executives and wealthy families" to boost investment to the Swansea Bay City Region he now heads.
With the Nato summit and 2010 Ryder Cup putting his Newport venue in the public eye, the billionaire says he wants the impact of that also felt further west.
He started at the economic body for Carmarthenshire, Pembrokeshire, Swansea and Neath Port Talbot this week.
It will advise the Welsh government.
Speaking to BBC Wales' Wales at Work programme, Sir Terry, 71, says his first priority would be "engagement with the population".
He added that he would not be "prescriptive" though he had ideas about where the focus should be, including on energy and software development.
The region's aim is to "create a better economic environment for the area" including "better paying jobs".
'Team spirit'
It covers four council areas: Pembrokeshire, Carmarthenshire, Swansea and Neath Port Talbot.
Sir Terry told the programme that getting everyone to work together would be crucial.
He said he would use his experience of managing global companies to create a "team spirit".
The businessman added that the performance of a team dictates whether it wins or loses and he had the experience of growing a team and getting it to win.
The Cardiff Capital City Region has made delivering a metro system for south east Wales its top priority.
Sir Terry believes electrification of the London to Swansea rail line and the upgrade of the M4 motorway also offer tremendous opportunities in attracting people to his region.