Prince Philip Hospital ward praised for high care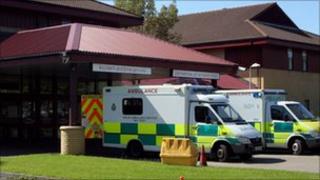 A hospital ward in Carmarthenshire has been praised by inspectors for being well run by "friendly and organised" staff who maintain high care standards.
The team running Ward 4 at Prince Philip Hospital, Llanelli, wanted to ensure patients always had positive experiences, they found.
Patients also gave the care they received "overwhelming support", Healthcare Inspectorate Wales said.
Inspectors made an unannounced visit to the ward in June 2014.
A report on the visit said they were met by "a friendly, approachable and organised staff team working within a busy ward environment, striving at all times to try and ensure that the patient experience was as positive as possible.
"Feedback from patients and relatives indicated overwhelming support for the care given on Ward 4."
It added: "Patients can be confident that the service, at the time of the inspection, was noted to be well run and there was attention to maintaining professional standards of care."
The ward was also praised for using a designated ward nutrition nurse and having a nutritional advice folder.
However inspectors also identified a number of areas for improvement, including the need for staff to ensure that the effectiveness of medication is recorded.