100 Swansea 'micro pigs' culled for public safety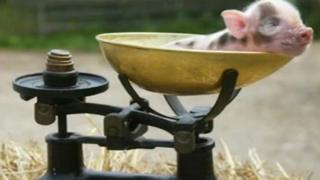 More than 100 so-called 'micro pigs' living in the wild have been shot in a cull by Swansea council.
It is understood that the pigs, which have been made popular by celebrities as pets, were living on the 'Welsh Moor' area of common land in Gower.
The animals appear to have escaped from captivity and may have cross-bred with other species of farm pig.
Local farmers and parents raised concerns about the danger they posed to children and livestock.
A council official said they had tried to find the original owners but nobody was prepared to take responsibility for the pigs, which may number as many as 300 animals.
"These animals presented a serious risk to other livestock in the region in the event of a disease outbreak, and because of this we were left with no option but to carry out a cull," said a spokesperson.
"This was carried out by a licensed professional and with full support of local farmers in the area.
"We also liaised with animal welfare officers in the Welsh government to keep them informed of our actions."
Micro pigs have become popular pets recently, with famous owners including Victoria Beckham and Paris Hilton.
While the animals are selectively bred to remain small, some varieties can grow up to 5ft long and 3ft tall (1.5m by 0.9m), weighing up to 155lb (70kg).
This has led to many being abandoned as they become unmanageable in the home.
The RSPCA said the cull highlighted its concerns over the animals being kept as pets.
"Although these pigs are advertised as being 'micro', people might not be getting what they think they are expecting," said an official.
"Anyone considering purchasing a micro-or mini-pig must first consider carefully whether they will be able to provide for a pig's needs for the whole of his or her life."
The charity also said there were regulations and laws about keeping pigs as pets which include disease control measures, movement notices, registration, identification and feeding.
"Owners should note that, even if kept as pets, pigs remain farm animals in the eyes of the law," the spokesperson added.
"Due to their complex needs, the RSPCA is concerned about how well micro and mini-pigs can be cared for by non-specialist and inexperienced keepers."