Naz Malik will not face retrial over Awema charity fraud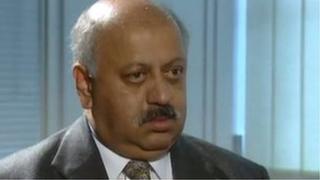 There will be no retrial of a former chief executive of a race equality charity who has been cleared of fraud.
Naz Malik, 65, who headed the now defunct All Wales Ethnic Minority Association (Awema) was cleared on two charges last week.
A Swansea Crown Court judge has now entered a formal not guilty verdict on a third charge.
The Crown Prosecution Service has said a retrial was not merited.
Mr Malik had denied swindling the charity of about £15,000.
Last week the trial jury found him not guilty of defrauding the charity with a £2,500 cheque and using its funds to pay for a life insurance policy.
But jurors were discharged after failing to reach a decision on a third charge relating to a £9,340 cheque.
Swansea-based Awema was wound up in 2012 when its public funding was stopped after claims of financial mismanagement.
Mr Malik refused to answer questions as he left the court on Friday.
A Crown Prosecution Service spokesperson later said: "We have completed a post-trial review of the prosecution case against Mr Malik, with regard to the single charge on which the jury were unable to reach a verdict last week.
"Our review was conducted in accordance with the evidential and public interest tests set out in the Code for Crown Prosecutors.
"Our conclusion is that we are not satisfied there is a realistic prospect of securing a conviction at a retrial."