Fishpass to help salmon leap river weir built in 1791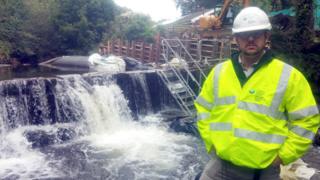 Salmon will be able to migrate up more than 10 miles of a Swansea river for the first time in two centuries - thanks to a new fishpass.
A weir was put across the Lower Clydach River in 1791 for water to power Clydach Mill and an iron works.
Natural Resources Wales (NRW) is installing a fishpass to help them through the weir from this autumn.
The river is a important tributary of the River Tawe and has other migratory fish such as sea trout and eels.
The scheme is funded by the European Fisheries Fund and the Welsh government, as part of the Salmon for Tomorrow project which is aiming to open up another 1,500 km (900 miles) Welsh waterways for spawning.
Dave Charlesworth, fisheries officer at NRW, said: "This is the latest in a series of projects to remove barriers to migratory fish in our rivers.
"We know that this area is extremely popular with anglers so more fish in the river will be good news for the angling community and the local economy.
"A healthy river with a thriving fish population will also be good news for other wildlife in the area that rely on them for their survival, helping to make the area a better place for people to enjoy."