Carmarthenshire council brings in new parking charges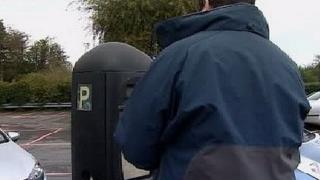 Charges have come into force across Carmarthenshire's council-owned car parks in the wake of a budget squeeze.
Council leaders admitted they had been forced to make "very difficult decisions" as they try to make £12m cutbacks.
Motorists will now be charged for parking at certain times on Sundays, which had previously been free.
The council said the charges would help pay for public transport and maintaining the car parks.
Disabled blue badge holders, who were previously allowed free parking for three hours, will now be charged after one hour.
Four-hour free parking in Llanelli car parks, brought in when the £26m East Gate shopping and leisure development was being built, will also end.
Fees for council-run multi-storey car parks range from £1.20 for an hour to £2 for four hours, which the council says is much cheaper than commercially-owned equivalents.
The authority decided to bring in car parking charges, as well as cuts to street cleaning services as part of measures to save £12m this year.
It also needs to save £31m over the next three years.
Executive board member for transport Councillor Colin Evans, said the parking fees would help the council provide parking, transport and highways services across the county.
"Given the scale of the financial challenges currently faced by local government, the authority has had to make some very difficult decisions," he said.