Closing speeches in Naz Malik fraud trial in Swansea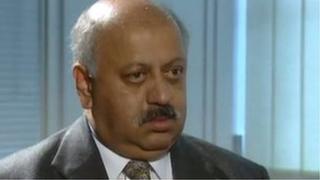 A former race equality charity boss "wasn't entitled" to use the organisation's funds, a court has heard from prosecutors.
Naz Malik, 65, is accused of swindling around £15,000 from the All Wales Ethnic Minority Association (Awema).
In closing speeches the jury was told Mr Malik used some of the money to pay off his credit card bill.
Mr Malik denies three charges of fraud, and his lawyer told Swansea Crown Court he did "nothing covert".
The former Awema chief executive is accused of fraudulently using two pre-signed cheques with a total value of nearly £12,000 to reduce his personal debts, but claims the payments were to cover expenses.
Jurors have also heard Mr Malik also claimed he was entitled to take out a life insurance policy which would pay out £120,000 to his wife in the event of his death at the charity's expense because of a "salary sacrifice".
Awema folded in 2012.
'Behave dishonestly'
Summing up on Tuesday Jim Davis, prosecuting, said Mr Malik had acted dishonestly and sought to cover it up.
Referring to Mr Malik's drawing a cheque for £9340, Mr Davis said: "The defendant wasn't entitled to the money. He did not get the board's approval and we say he did it to pay off his credit card bill."
Of the insurance policy, the prosecutor said: "Why was the board not informed that Awema was paying the policy not him?"
Mr Davis said of Mr Malik's replies to the charges: "The defendant did behave dishonestly in relation to the cheques and the policy and was seeking to cover it up. The evidence should satisfy you of his guilt".
Defending, Peter Griffiths QC described Mr Malik as a 65 year old man of good character who had given years of service to the well-being of the ethnic minorities of Wales.
He told jurors: "The hallmark of dishonesty is covert behaviour. Nothing covert has been done by this man".
The judge will sum up after the closing speeches and the jury is expected to retire on Wednesday.