Warning over 'toxic' loom bands in Carmarthenshire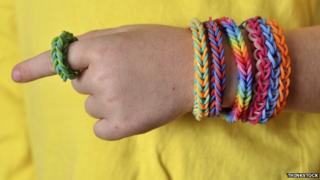 Tests are being carried out on batches of loom bands in Carmarthenshire believed to contain harmful levels of toxic chemicals.
Trading standards believe a number of bands and charms may not comply with toy safety regulations.
There are concerns that some imported from the far east could contain 500 times the legal limits of phthalates, which can be harmful to health.
Parents are urged to check products comply with European guidelines.
Loom bands have become the latest craze with children spending hours making the colourful elastic bands into bracelets and some people even producing clothes.
Carmarthenshire council said findings from trading standards teams across the UK had found levels of phthalates - a substance used to make plastic safer and pliable - were well above the recommended amount.
Safety standards
Use of the chemical is strictly controlled as it can be transferred from plastic into the body through saliva or sweat.
The legal limit in plastic toys should not exceed 0.1 per cent, but tests elsewhere in the UK found some loom bands contained around 50 per cent.
Councillor Jim Jones, Carmarthenshire executive member for public protection, said: "We do not want to spoil anybody's fun, especially since this craze is encouraging wonderful creativity, but we also don't want to see anyone come to any harm."
"All we're asking is that parents carefully consider the quality of the bands and charms they are buying for their children - especially the cheaper bands that may have been imported and do not meet British safety standards."
He said the council was awaiting the outcome of chemical analysis on some batches and would make people aware of the outcome.