Kidwelly smoker to pay £860 over dropped cigarette butt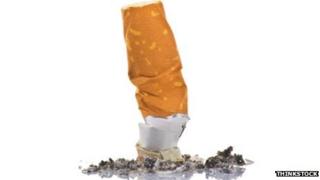 A smoker has been ordered to pay £860 for dropping a cigarette end on a street in Carmarthenshire.
The man, 30, from Kidwelly, was spotted throwing the butt away by enforcement officers outside a British Heart Foundation charity shop in Llanelli.
He refused to pay a £75 fixed penalty notice and was convicted in his absence by Carmarthen magistrates.
He was fined £600 and must also pay £200 costs and a £60 victim surcharge.
Carmarthenshire Council said 83% of litter on the county's streets was smoking-related and anyone spotted dropping litter would be fined.